Amour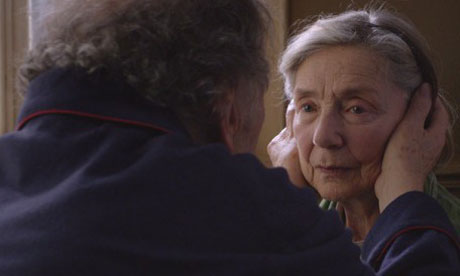 My Paternal Grandfather was not a nice man. I learned this as I grew older, the majority of the information coming to me as my grandfather passed away. When I was younger, he would always bring Church's Fried Chicken to our house for dinner. I later discovered this was not out of the kindness of his heart, but the hatred of the smells my father's cooking produced. When my parent's first wed and were considering where to live, my Grandfather vowed never to visit them if they were to get a house in Detroit. They decided to live in Warren.
The day of my Grandfather's funeral, I remember how pieces of the chandelier consistently clang in the breeze of the incredibly powerful air conditioning. Commenting on the suit my Grandfather wore in his casket, one relative stated, "He was always particular." This was the nicest thing said at his funeral.
His slow departure from the world was complicated, and something we don't often talk about in the family. His second wife died from complications of a stroke. At her funeral, he specifically stated he wanted time alone. He would go on to suffer two strokes. There were many instances when I can recall him stating he no longer wanted to live. Yet, he remained. "This is costing too much money," he would often say. "I don't need this."
My mother claims he was waiting for me. The last time I saw him he looked nothing like my Grandfather. He was shriveled, his eyes sunken; his body was barely a reminder of who he was, only that he was a person and barely that. It had been weeks since he refused to continue drinking Vernors (a full, open bottle, was by his bed when I last saw him), and the night after I saw him, he passed in his sleep.
Michael Haneke does an excellent job in Amour reminding you that this film is about being an audience to the decaying world around you; being an audience to death. So much of what made this film powerful for me was hearing so many sobbing audience members. Following the showing, my friends and I were somewhat shaken. We immediately shared stories of our experiences with death. Amour immediately takes you to your own history with death. It is hard to separate yourself from your own history as Emmanuelle Riva gives her all in a breathtaking and heart-wrenching performance that is so accurate to my own memory of my father's passing.
In Haneke's typical still, photograph-like presentation, only what is necessary is presented in the film. Sometimes less, and I was often left fascinated and enthralled by what Haneke did not show us. I'm not incredibly familiar with Haneke's work, but I know he's been criticized for being emotionally manipulative. In this film, it is certainly not the case. I found it, quite honestly, to be one of the least emotionally manipulative films I have seen.
I'd like to close with discussing the title. Many critics seem to take this film as a presentation of undying, devoted love. I do not see that in this film at all. To me, the film is constantly asking the audience "Is this love?" This is the only way to interpret the film cohesively considering the close of the film. So many characters question each other, their commitment to one another, and if what they are doing is "right" or in line with caring for someone. Again, this took me back to my experience with death. Was it right for us to keep Val in hospice? I truly believe he didn't want to live. I think we were selfish, as love often is, in keeping him alive. Amour is a powerful examination of what love is, is not, and the damage that love can cause.